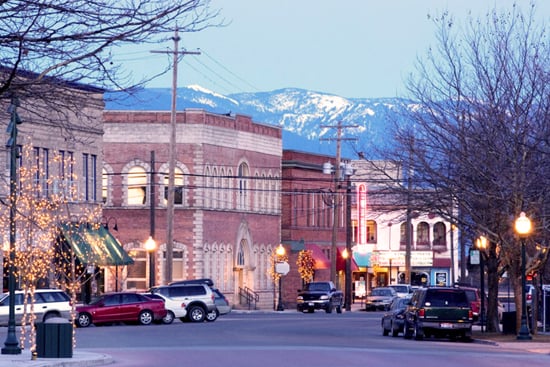 Downtown Sandpoint, Idaho.
"We knew the Sandpoint community had a great work ethic – all those people from hard-working farm families – and a great quality of life," Bill explained. "And my wife and I wanted to move our family back home and raise our children here."
In 1972, EPC rented some office space next to the historic Panida Theater in downtown Sandpoint, while they built a new building on the west side of town. EPC moved into the newly-built factory in 1973. Within six years, however, EPC had outgrown that building. Another building, roughly four times the size, was built on an adjacent property, and EPC moved in to the new building in 1979.
By 1985, even that new building wasn't big enough for all of EPC's production. EPC purchased land south of Sandpoint, not far from Cocolalla Lake, and built the machine shop we still use today. Production of EPC's line of Cube Encoders was also moved to this location to make room for our newer products at our location in-town.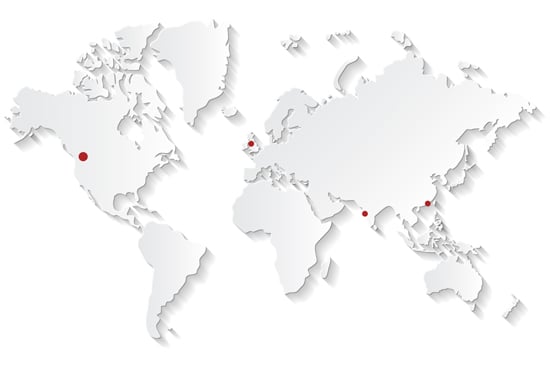 EPC's worldwide locations.
That wasn't the only way EPC was growing, though. In 1987, British Encoder Products was established in the UK to sell our products throughout Europe. By 1994, Zhuhai Precision Encoder in China was producing encoders to sell throughout China. And in 1997, EPC began a partnership with Jayashree Encoders in Pune, India, to use our technology for encoders sold in that country.
Through the years, EPC's talented engineers have continued to innovate and develop new encoders to meet the changing needs of the motion control industry. We've added dozens of encoders to our line of products, including compact encoders, heavy-duty encoders, thru-bore, shaft encoders, programmable, and absolute encoders in a variety of sizes and configurations.