Encoder Products Company's new LCX Series draw wire units work with EPC encoders to accurately measure position and provide motion feedback in motion control applications. The LCX Series of draw wire solutions is manufactured for EPC by our German technology partner and offers wire lengths from 1 to 42.5 meters in length.
"The maintenance-free draw wires are particularly quick and easy to install," says Dave Wilson, National Sales Manager for EPC. "Draw wires are used for motion feedback because of their reliability. Coupled with an EPC encoder, the highly-flexible steel wire of the LCX is an excellent choice for motion control in robotics, extrusion presses, textile machinery, control gate positioning, theater stages, elevators, gantries, boom cranes, forklift booms, and motion control applications across all industries."
Three housing sizes
The LCX is available in 3 housing sizes:
The LCX80 comes in an 80 mm casing and offers 1, 2 and 3 meter wire length options

The LCX120 comes in a 120 mm casing and offers 4 or 5 meter wire length option

The LCX135 comes in a 135 mm casing and offers wire lengths from 6 m to 42.5 meters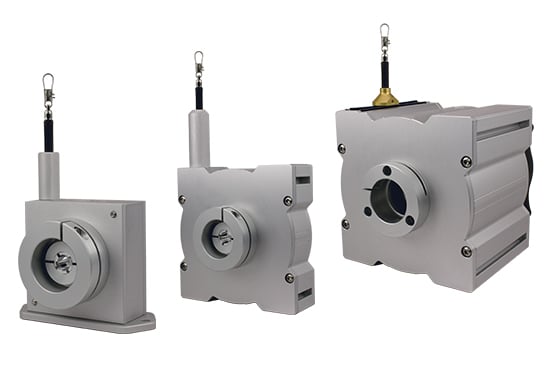 From left to right: Model LCX80, LCX120, and LCS135
Four encoder options
The LCX Series draw wire units work with encoders that have a clamping flange that is 36 mm in diameter, and a shaft that is 10 mm in diameter and 20 mm in length. Installation is quick and simple with these EPC encoders.